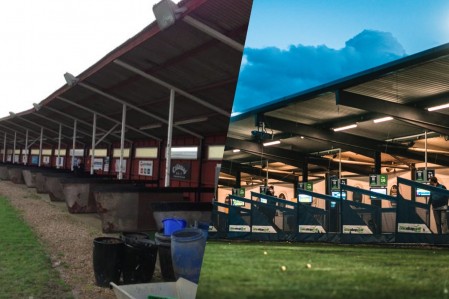 How One Stop Golf has changed over time
May 26, 2021
When we say a lot has changed here, we mean a lot! In this blog post we'll take a look over the improvements we've made over the years to make One Stop Golf the family entertainment centre our customers know and love today.
Let's kick things off with the driving range
One of the biggest changes we've made has to be the range itself, we'll let these pictures do the talking… the left shows the range in 2016 vs 2021. It's almost unrecognisable!
Our team understands the importance of changing with the times and we'll do everything we can to improve our customers' experience and make us the leading driving range in Yorkshire.
Recently we've upgraded all of our bays to Toptracer bays. This technology helps golfers to make the most out of their practice with ball insights like never before. It also brings a fun new edge to those new to golf with games available to play that require no previous golfing experience.
The 25 Toptracer bays are split into two completely different sides of the range:
We have 8x Toptracer VIP play range bays:
- Max 4 player per bay
- Heaters
- Bowling alley style seating
- Music and tannoy system
Then on the other side we have 17x Toptracer practice range bays:
- Max 3 players per bay
- Bar top and stools (to be installed soon)
- Music and tannoy system
Back in 2013, we introduced Footgolf
That's right, a whopping 8 years ago we brought Footgolf to Hull with our 9 hole course. In fact, our course was the first accredited Footgolf course in the whole of the UK.
The aim of Footgolf is to kick a football into a 52cm hole in the least amount of kicks possible. A football, scorecard and pencil is all you need for a whole lot of fun!
Next up, we have the addition of Pirate Adventure Golf
In 2015 we launched Hull's only mini golf course with a fun pirate theme - perfect for families, couples and friends to partake in some friendly competition.
It's been a hit since it's launched with many fully-booked sunny days providing hours of entertainment for customers. It's a favourite with the little ones!
Over the years we've maintained the course and added new points of interest to keep it fresh and provide new challenges.
We welcomed American Golf on board
We've always had pro shops down at One Stop Golf - our regulars will remember how different the shop used to be!
American Golf came to One Stop Golf for the first time in 2018 then late 2020 they extended and completely revamped the shop - it's now a Flagship store representing the best of what American Golf has to offer… and it's right on our doorstep!
You'll find the best equipment from top golf brands and they even have an impressive fitting bay where you can get professional advice on the best clubs for your game before buying.
Last but not least, we have One Stop Burger
It's not just our range that's changed. Our food / dining area has adapted over the years too - have you tried our burgers yet? They're proper butchers burgers and we believe they're the best in the city!
Not only do we serve up cracking burgers, we also have chicken wings, onion rings, halloumi, classic cheesy chips, salads and so much more available.
The best part is you can now order food directly to your bay! Find out more here.
Exclusive: we've recently installed a huge new window in the bar area so you'll soon be able to enjoy a bite to eat inside whilst keeping an eye on the kids playing outside - all will be revealed soon...
We want to say a huge thanks to all of our loyal customers who have made our transformation over the years possible. Cheers to the future!