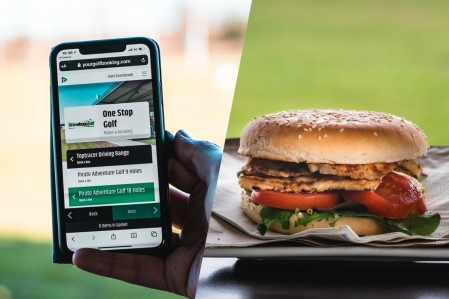 How to use our online booking and food / drink ordering systems
May 24, 2021
It's been a year of change and it's given us the perfect opportunity to review the way we work and make improvements for our customers. One thing we've introduced as a result of coronavirus and making our service more contactless are new booking systems for both activities and food. Here's how to use them:
Booking system
1) Create an account by clicking here and signing up.
2) Then click here to pre-book your activities online and avoid disappointment. You can book Toptracer bays on our driving range, Pirate Adventure Golf or Footgolf.
3) Once you've selected your preferences and paid, you will receive a confirmation email.
4) Simply head down to the range at your confirmed time and once you're here, check in using the email.
5) If you're playing on a Toptracer bay, your email will now show a barcode that you can scan to claim your golf balls. If you're booked in for Footgolf or Pirate Adventure Golf, the reception team will talk you through what you need to do.
6) You're all set! Enjoy.
You can still book via telephone if needed: 01482 494948
Food and drink ordering
1) Each bay and every table will have a QR on which will take you directly to our food and drink ordering system.
2) Simply scan the QR code with your phone camera and a link will appear at the top of your screen which you need to click.
3) Then simply select what you'd like to eat or drink and pay for your food on the system. You'll provide your bay or table number when you're ordering.
4) Food and drink will then be prepared and brought to you throughout our facilities.
Our team are always happy to help, please ask if you require any assistance. We look forward to seeing you all soon!