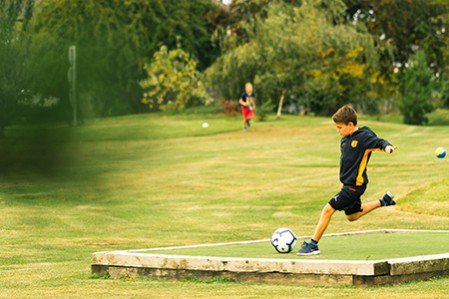 Things to do in Hull with the kids before they go back to school
Aug 19, 2021
There's two weeks left until the kids head back to school so if you're looking for some last minute plans, we've got you covered.
Pirate Adventure Golf
Navigate your way through 9 obstacle-ridden holes on our Pirate Adventure Golf. Full of barrels, cannons, a skeleton and more - there's plenty to spark the little one's imagination!
Ideal for families, couples or groups of friends. It's the perfect summer activity and prices start from just £3.50. Book Pirate Adventure Golf here.
Footgolf fun
Footgolf goes down a real treat with the kids. Fun fact: we were the UK's 1st Accredited Footgolf Course! It's designed to test every player's ability, no matter your age / skill level.
So how do you play? The aim is to kick a ball into a 52cm hole in the least amount of kicks possible. All 9 holes have been designed differently, some with bunkers and water hazards. Some have tricky three-tiered greens! You can choose 18 holes to double up your game.
The only thing you need to remember is some sensible shoes.
Secure your game of Footgolf.
Toptracer
We're also home to the first Toptracer range in Yorkshire! So, what's it all about?
Our Toptracer Range features video monitors mounted in our traditional range bays. These monitors are connected to cameras in the roof which track the flight of your ball and replicate it on the screen.
You simply hit the ball and watch how far, fast and high it travels. The incredible equipment also offers multiple game modes so you can challenge each other.
We have two different range types: play and practise. Our play range is perfect for a fun family game with bowling alley-style seating.
One Stop Burger
We even have something if you work up an appetite: One Stop Burger. Here you'll find the best burgers in town! Simply scan our QR codes and order to your bay or eat in our diner.
There's so many treats to choose from, including kids meals and plenty of refreshments. Check out the menu here.
What are you waiting for? Schedule a family day out with us here.