We have 3 qualified PGA golf coaches dedicated to helping you improve your golf skills.
Whether you're a beginner, looking to take your game to the next level or a junior player, our coaches are on hand to help you.
With state-of-the-art coaching facilities, we offer video analysis, flightscope technology, ball flight tracking and ball data.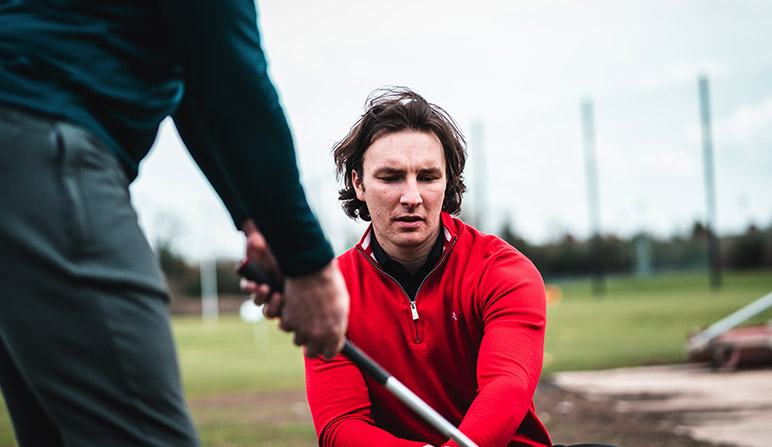 Our Golf Coaches
James Drinkall, PGA AA Class
Matthew Ombler, PGA Professional
Matthew is approachable, friendly, and committed to each customer to help them improve their game and achieve their goals. Goal-setting is a major part of Matthew's coaching philosophy as he believes this is ultimately what drives golfers to improve.
With access to a state of the art coaching studio with video analysis and flightscope technology, Matthew collects data from each shot during your lesson. You'll also receive a post-lesson email detailing lesson performance and advice on what to continue practising out of lessons.
Individual and group lessons are available to golfers of all abilities from total beginners through to professional golfers. Lessons will cover all areas of the game including on course management and gap tests to make sure you know exactly what you're capable of with each club in your bag.
On a Saturday afternoon, Matthew runs a weekly junior group class which is suitable for juniors of all ages from 4 through to 14 years old.
In 2017, Matthew completed his FDSC professional golf studies at Birmingham University and is a keen golfer on the Yorkshire PGA tour after a successful amateur playing career in the local area.
Prices - Adults:
Individual lesson: £20 for 30 mins
Individual lesson: £30 for 60 mins
Package: 3 x 30 mins £50 (save £10)
Package: 5 x 30 mins £80 (save £20)
Package: 3 x 60 mins £75 (save £15)
Package: 5 x 60 mins £120 (save £30)
Juniors:
Individual lesson: £10 for 30 mins
Package: £25 for 3 x 30 mins lessons
On-course playing lessons available - POA
2 lessons per month - £500 per year one off payment or £45 monthly
Group lessons:
£5 per child. Ran on a Saturday 1.30pm - 2.30pm
Contact Matt on 07944223477 or info@mattomblergolf.co.uk to book a lesson today or book a lesson in at reception or click here to book online
Guy Milner, PGA Professional
Guy has been educating golfers for over 20 years, enhancing what works. Making simple changes that can give extraordinary results. Enjoyable golf is his aim, finding workable, playable outcomes that allow the golfer to progress.
He came late into golf at 28 years of age and believes that playing golf with friends can bring many physical and social benefits.
Guy qualified with the PGA in 1998 and was a qualified professional at Cottingham Parks Golf Club for 15 years before travelling and playing exclusively for business and individual golf clients.
Prices:
1 lesson £25 (45 minutes)
3 lessons for £50 (45 minutes)
2 lessons a month for a year for £500
Book a lesson in with Guy at Reception or call 01482 49 49 48 or email guymilner22@guymilner22.karoo.co.uk.
Junior Golf Lessons
Saturdays
Matthew Ombler: 1.30pm - 2.30pm, children aged 4+, £5 per child per session
Sundays
James Drinkall 1pm - 2pm, 4 - 7 years, £5 per child per session
James Drinkall 2pm - 3pm, 6 - 10 years, £5 per child per session
James Drinkall 3pm - 4pm, 8+ experienced players, £5 per child per session
Private junior coaching is also available along with school holiday special classes, please enquire to find out more on sales@onestopgolf.co.uk.
Please call reception on 01482 49 49 48 to find out more.