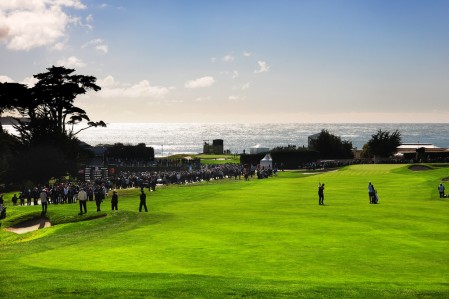 Pebble Beach golf course comes to National Avenue
Sep 24, 2018
Forget an 11 hour flight - Pebble Beach Golf Course is now right on your doorstep! Use our Toptracer Range to simulate playing this famous Californian course.
This West Coast course is undoubtedly one of the most beautiful courses in Golf and hosts the AT&T Pebble Beach Pro-Am each year as well as playing host to 5 US Opens. Do you fancy playing on the same course as the likes of US Open Winners, Jack Nicklaus, Tiger Woods, Tom Kite, Tom Watson and Graeme McDowell?
The highlight of the round has to be the 7th hole: one of the most photographed holes in the world for its stunning views from a raised tee looking out over the Pacific Ocean. Could you master this short but complex par 3?
Our Toptracer Range allows you to virtually play Pebble Beach along with other world-renowned courses all from our location down National Avenue in Hull. Complete the course solo or compete against your friends whilst enjoying our beer pitchers and food platters.
Do you fancy playing one of the most iconic golf course in the world? Test yourself around Pebble Beach and see if you can recreate Tigers 2000 US Open victory.
Please call 01482 494948 to book your Toptracer Range slot or click here to book online.