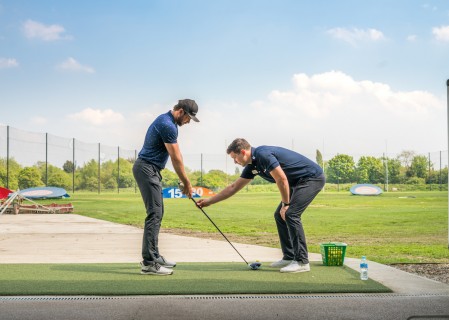 7 tips for summer golf from Matthew Ombler PGA
Jun 10, 2019
We caught up with our PGA professional, Matthew Ombler, to gather his 7 top tips for summer golf. Here's what he said:
#1 Switch to spikeless shoes
The ground on the course is firmer in summer so I always ditch the spikes and opt for a lightweight, comfortable shoe for my round. There's lots of choice available at our American Golf store, pop in and see the team to find the perfect pair.
#2 Expect your ball to roll further
You'll find your ball will roll further in Summer (again because of the firm ground) so don't always reach for your driver at every tee. Dust off your hybrids and 3 woods to achieve distances similar to those with your Driver. Assess every shot and adapt your game to the conditions.
#3 Attack your approach shots differently
When you're playing into the green make sure you review the ground conditions and don't choose a target land area as near to the pin as you usually would. Your ball will have extra roll on it in the summer months so allow for that in your chip shot.
#4 Don't ignore the driving range
The driving range isn't just for winter golfing when the course is shut. You need to constantly work on your swing and explore different techniques to improve your game for when you next head out on the course. If you want help refining your swing, book in a one to one lesson with me and I'll analyse your technique and suggest ways you can improve - let's get that handicap down! My contact details can be found at the bottom of this post so don't hesitate to get in touch.
#5 Don't always trust the weather
Unless you're jetting off this summer on a golfing holiday, be prepared for the unreliable British weather! Always have an umbrella and waterproofs to hand in case the weather changes and adjust your swing accordingly.
#6 Squeeze in a round whenever you can
Make the most of golf this summer and try to get on the course as much as possible. Not got enough time for a full 18 holes? Life can get hectic, especially with the kids off school and trips away! Why not head to the course after work to play 9 holes? You don't always need a full round to enjoy the game.
#7 Use a trolley
If it's hot, you don't want to be lugging around your golf bag, get yourself a trolley and you'll be able to relax more on the course. Golf is all about your mindset, if you're carrying a heavy bag in soaring temperatures, it's likely you won't be in the greatest mood to play your best round.
There you have it - seven things to consider this season. If you have any questions about your game, get in touch with Matthew Ombler and he'll be happy to help out.
Either pop in to see him, contact him on 07944 223477 or message his Facebook page.